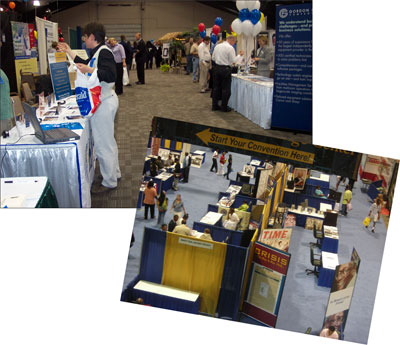 The days of big-time sales numbers at industry shows are all but gone. Today, many companies exhibit at shows out of a sense of obligation. "We have to be there because our competitors will be." And then, companies bear the expense of the booth, the staffing, T&E, and the lost sales-days on the street.

Do your people demonstrate a product? Do you use LCD monitors? Do you do PowerPoint shows? Do you have a looping videotape playing the features and benefits of your product and service? So does everyone else!

How to make your booth different from the others? With a plan! With a process! With preparation!
Trade show effectiveness is based upon two factors – high traffic in your booth, and efficient handling of prospects. It is not done individually, but as a team effort. Immediate qualifying is crucial. Tire-kickers need to be weeded out. So do the competitive spies. It's triage.
Your SME's need to work in concert with your sales team. You have a ten minute window of opportunity to qualify, evaluate through probing, and move to a next step. Make a mistake here and the window will close.
At Trade Show Tactics, your people will not just learn, but rehearse the steps with continual role-playing scenarios. First, Personal Image is addressed and polished. Next comes the Probing/Qualifying and Presentation Organization modules. Effective use of Visual Aids is addressed. Team Tactics is then taught and rehearsed, followed by Managing Questions. Where appropriate, Negotiation Skills and Unexpected Issues can be delivered. All this is videotaped for repeated review for this and future shows.
Modules Included:
Personal Image
Probing/Qualifying
Presentation Organization
Visual Aids
Team Tactics
Managing Questions
Do more… much much more, than collect business cards for follow-up. There are one-day and two-day training workshops available, on or offsite, to prepare for your upcoming show.