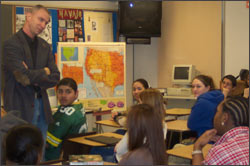 Providing new opportunities for your students and faculty to experience a highly successful and productive school year is one of your primary goals.
These powerful presentations personally touch, motivate and inspire everyone. Gain new insights and ways to accomplish goals even when faced with today's issues such as peer pressure, drugs, self-esteem, gangs, or alcohol.
Most requested programs include: Tools for SuccessSM, Seize the MomentSM, Sharpen Your SkillsSM, and You Can Talk with Young People and Answer Their QuestionsSM.
When you book a full-day appearance, you will also receive a complimentary workshop.
Choose the program(s) that best suit your event or have a custom presentation created. Positive change only occurs through your efforts. Take advantage of this opportunity now to influence those you care about most!