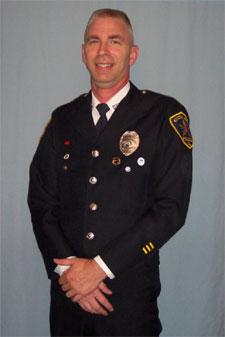 Jerry is a retired Detective and D.A.R.E. Officer. Creating a model trading card program which was adopted by many law-enforcement agencies in a pro-active approach to foster relationships between the police and community, he was recognized Illinois Governor James Edgar and President George H. W. Bush.
Armed with over 20 years of research and experience, Jerry's credentials are unquestionable, having spoken at national conferences and conventions throughout the United States and abroad. He has worked with the law enforcement community, schools, associations, organizations and the corporate world for more than 30 years, delivering keynote speeches, and following up with breakouts where everyone becomes a part of his unique highly interactive program sessions.
With an impressive list of clients including D.A.R.E. America, Virginia School and Safety Conference, State D.A.R.E. Conferences, and law enforcement agencies, around the country. Jerry has clearly left his mark on thousands of audience members the world over.
Founding Paulsen Productions in 1994, his company has been designing and conducting presentation skills management and leadership seminars and workshops throughout the United States, Canada, Puerto Rico, Mexico, South America, Europe, China, Guam and the Pacific Rim. Paulsen Productions has offices in the United States, Brazil, and China. He holds a Masters of Communications and is a published author. Paulsen Productions has a dedicated staff of 39.
In addition to Presentation Skills Dynamics TM , Jerry's company includes two other divisions: Education Impressions SM in which he maintains his dedication to the prevention of and alternatives to ATOIDS, providing training seminars and prevention presentations to the education and police community; and Motivation Concepts SM , delivering motivational keynotes nationwide affecting thousands of lives with his energetic presentations.
He has partnered with organizations such as D.A.R.E. America, Operation Snowball, the Illinois Teen Institute, IADDA, and other prevention organizations in support of a drug-free lifestyle. Jerry has been honored by the United States Department of Defense, and is the 2008 United States Small Business Administration's Veteran Champion of the Year.
Conference Workshops
Following is a list of the most popular workshops that are delivered at Law enforcement & D.A.R.E. conferences around the country. Other workshops are found on our website, or we can customize and tailor topics to fit your conference or event needs.
Workshop 1:   Perception:   What are your students REALLY thinking of you?
Have you thought of how students, teachers, parents and the community are perceiving you? This workshop is designed so that you will be able to identify and assess how you want everyon e to perceive you – both in and out of the classroom.   Let your own personal style as well as your personality come through every time you communicate with others, regardless of the situation. There will be opportunities for some to deliver an impromptu introduction in front of the group. The group will then define the ideal D.A.R.E. Officer image – describing the way officers wish to be perceived by others.
Workshop 2:   Presenting D.A.R.E Lessons Dynamically!
Participants will learn a methodology for delivering a message from the audience's viewpoint in order to gain greater acceptance, understanding and support for their message. You will improve your physical presentation skills and learn effective management of question sessions. This is Jerry's copy written methodology, and the format he created to achieve award-winning success in his D.A.R.E. program.
Workshop 3:   Effective Facilitation: Run a classroom and get the results you want
Everyone facilitates meetings, impromptu or planned, as part of their job. It's also the D.A.R.E. instruction method. This workshop gives you the opportunity to sharpen your skills in this critical job function, with emphasis on issues specific to D.A.R.E. Have the opportunity to role play meeting scenarios.
Workshop 4:   Fundraising: Creative ideas to support your D.A.R.E. program
Money? What money? Who has a budget from their department, village? If you have one, is it enough to fund your program to be as successful as possible? This workshop will give you ideas on how to creatively generate funds necessary for just YOUR D.A.R.E. program, without the interference of your municipal officials. Get the award-model Jerry created that will involve your entire community where you, the D.A.R.E. Officer, don't do all the work!