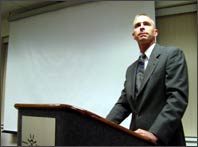 Jerry Paulsen's programs bring a fresh, new look to enhancing self-awareness, incorporating many of today's issues.
Fresh ideas for personal and business growth, motivation, thought provoking, highly charged and entertaining programs
Keynotes
You are in Control
This insightful presentation centers on:
Building blocks for success
The importance of being yourself
Decision making dynamics for self analysis
The Road to Success
Focusing on your goals for:
Choosing the right path
Facing challenges head on
Five steps to achieving success
Think Positive
Reaching ones goals and desires by:
Believing in yourself
Taking advantage of opportunity
Looking ahead – never behind
Don't Just Stand There!
Making a difference in your community through:
Self-satisfaction
Getting Involved
Being successful
A new perspective on important issues facing each and every on of us in our day to day lives.
An uplifting, honest look at your personal life as well as your professional careers.