Differentiation, Value Proposition, Features and Benefits, Value-added, Client-focused
To truly separate your company from your competition you must rely upon the quality and level of professionalism of your sales force. Studies show that price is rarely the number one factor in the buying decision. Any advantage you gain will make the difference between winning and losing key business opportunities.
How well you present your message will make or break your year.
"How do we shorten our sales cycle?"
"How do we overcome unforeseen objections?"
"How do we reach higher in the organization?"
"How will we make our number this quarter?"
Well, how will you?
Extreme SalesSM is a one or a two-day workshop that will equip your team with the physical skills and the methodology to capture the imagination of your prospects. Your salesforce will deliver memorable presentations that are enthusiastic and to the point.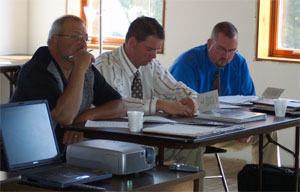 This program contains no sales theory… it's all practical application. Each participant will arrive with a pre-determined real-world client/prospect in mind, and an upcoming sales presentation to create. Each will organize, rehearse, and deliver the presentation to the group. Each will have done pre-program homework on the client/prospect. Each will prospect, probe, and negotiate as part of the process. Each will manage a "Q&A" module. Each will leave with a structured, comprehensive, rehearsed, sales presentation, ready to deliver; built upon a copywritten methodology that will clearly differentiate your team members from your competition's. This newly-acquired skill-set transfers to all sales calls simply by knowing it and having rehearsed it.
Like all of our Corporate Programs, Extreme SalesSM includes a Resource Manual, a CD-ROM, handouts, videotape of their exercises and delivery, and Certificate of Completion. Also included is a free refresher workshop approximately ninety days post-program. Kirkpatrick Levels 3 and 4 feedback is collected from the participants and the manager, to gauge return on investment.
An investment today in your team will pay large dividends now and in the future.
Personal Image
Prospecting
Probing / Discovery
Presentation Organization
Visual Aids
Negotiating
Managing Questions