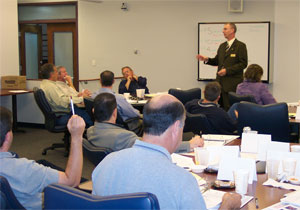 This program begins with an interview/discovery process of each participant to learn the objectives and current issues they face. Each participant will get extensive training and practice in the presentation organization and in the physical delivery of a message to the group members using a copywritten methodology. Modules are videotaped and reviewed with each participant, including privately with one of the Certified Speaking Professional Instructors. Each participant will leave with their videotaped rehearsal and delivery of a presentation – one that was pre-selected and tailored to their current business issues. Included is the Resource Manual for future reference, a CD-ROM containing extensive program resources, and Certificate of Completion.
The Corporate Tailored Program is available in a one-day, small group, and a two-day, large group session. This program also includes a one half-day follow-up session, 3 months post-program and unlimited phone consultation. All participants are contacted for Kirkpatrick levels 3 and 4 feedback 30 days post-program. Managers of participants also are contacted 45 days post-program for Kirkpatrick levels 3 and 4 feedback. Our commitment is to the personal and professional growth of our clients and their most important asset, their people.
| Modules Included | Elective Modules |
| --- | --- |
| Personal Image | Team Presentations |
| Presentation Organization | Unexpected Issues |
| Visual Aids | Probing / Discovery |
| Managing Questions | Facilitation Skills |
| Business Protocol | |
Features, Benefits, Value
With the many training resources available today, Paulsen Productions Inc. differentiates itself in many unique ways that will positively impact your business in measurable ways:
Level of Customization – Our modules are not off-the-shelf. There are some core modules included; core modules are tailored and elective modules are customized, as described above, through an interview process that tailors every program to the unique needs of the client.
Level of Post-Program Evaluation – All programs include Kirkpatrick Training Evaluation, Levels 1 through 4. Levels 3 and 4 data are given to the client for their use in assessing ROI. A post-program refresher workshop is included to fortify skill-sets acquired and methodology learned.
Ancillary Benefits – All programs include a 90 day, post-program workshop and lifetime phone consultation on program related issues. In addition, all participants may enroll in a quarterly Graduate Program offering advanced skills training at a nominal fee.
Value – Always aware of our client's budgets and needs, Paulsen Productions Inc. delivers highly customized tailoring, premium quality training, and exceptional post-program benefits… all at extremely competitive pricing.